This fluffy, cakey chaffle has a delightful texture and wonderful flavor reminiscent of an old fashioned cake donut, perfect for dunking into your morning coffee. I first considered the idea when I discovered peanut powder added a texture to ricotta chaffles similar to a cake donut. After some trial and error, I managed to not only recreate most of the flavor of a donut, but also the crispy, slightly greasy exterior and light fluffy interior.
There are two (three actually) key ingredients that make this possible: Peanut Flour (aka peanut powder) and Buttermilk. Since most people don't keep buttermilk handy, we'll make our own better version with Heavy Cream and Vinegar. Making our own buttermilk stand-in from heavy cream also gives us more fat and less carbohydrates than standard buttermilk.
Technically, sour cream should work also work, but I've achieved better results with this combination, most likely due to the cream being "wetter" helping counteract the peanut powder's absorbency. I used rice vinegar in my experiments because that's what I keep on hand for its lighter flavor, but this should work exactly the same with distilled white vinegar. It is important to mix the cream and vinegar first and set it aside to allow the mixture to thicken up. Once it no longer flows when shaking the container, it's ready to go into the batter.
To get the distinctive donut flavor, we add a small amount of vanilla extract and pumpkin spice (most donut recipes call for nutmeg and cinnamon, but those are both in pumpkin spice), as well as melted butter for both flavor and crispy exterior. Doubling up on leavening agents with Baking Powder and Baking Soda (to neutralize the vinegar) results in a very rapidly expanding batter when it hits the iron, so be careful not to overfill.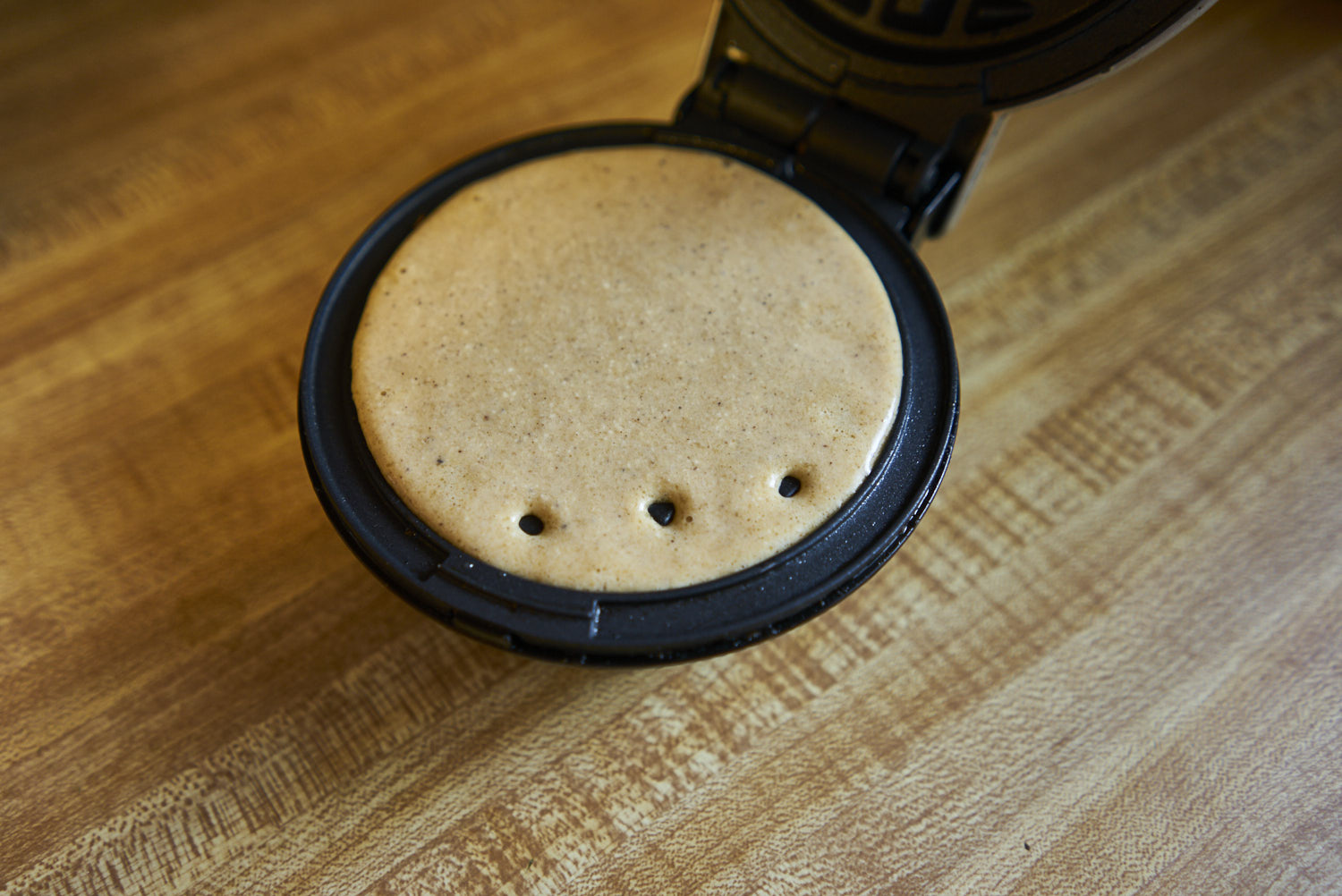 Because of how much this batter expands, you'll want to pour from back to front, until almost full. Several grid squares of the waffle iron should be visible when you stop pouring, but will rapidly cover up as the baking powder does its job. To allow the butter to crisp up the exterior, allow the chaffle to cook for two and a half heat-up cycles (iron heats up and cools down twice, then heats up once more). The chaffle will be squishy and pliable, but the exterior should be crispy.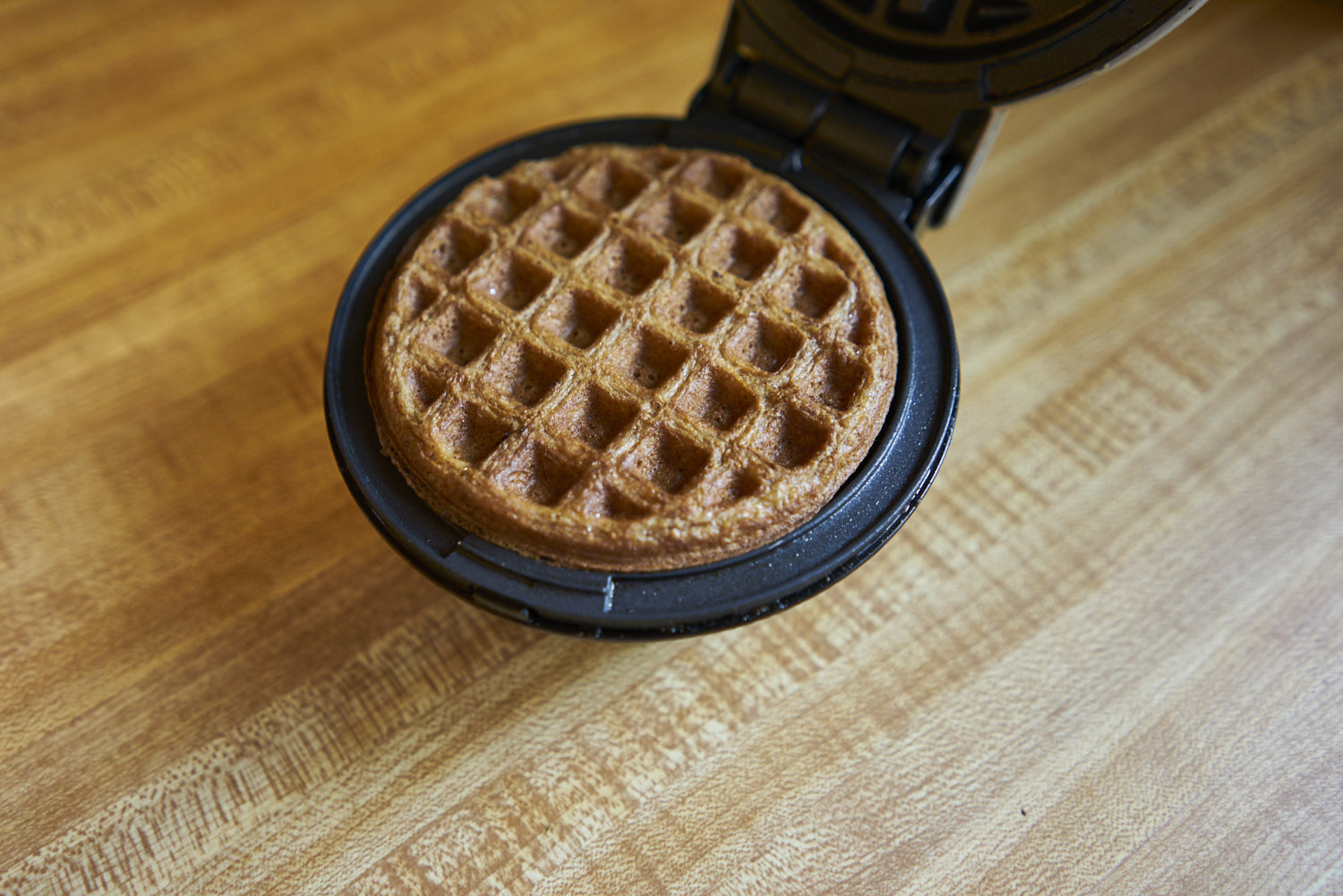 There will likely be a small amount of contraction due to heating it for so long, but it does not significantly affect the overall internal texture. Transfer the finished product to a cooling rack and allow it to cool before enjoying. The internal crumb will firm up as it cools, producing a much more enjoyable texture. The melted butter does give this chaffle a slightly greasy coating, so to mix things up, you can also roll it in powdered sweetener, or sweetener/cinnamon mixture if you desire.
This recipe yields 3 Dash Mini sized chaffles, and while they are very low carb and low FODMAP, they are very high calorie, so this recipe can be a full meal for one, or a snack for three.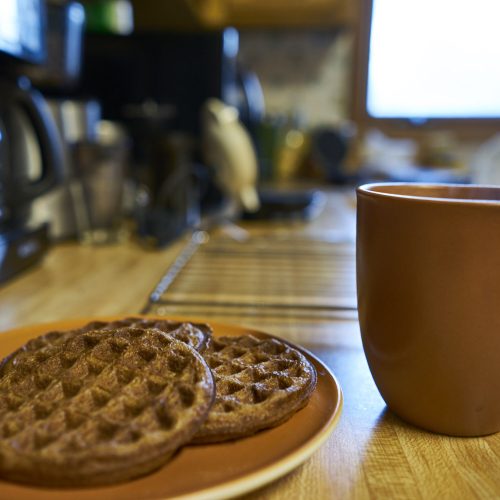 Print Recipe
Old Fashioned Donut Chaffle
Fluffy, cake donut with a crispy exterior, and a fantastic flavor
Equipment
Mixing Bowl

Small Bowl

Waffle Iron (Dash Mini)
Ingredients
Main Batter
1

Egg

1.5

oz

Whole Milk Ricotta Cheese

(About 2 tbsp)

1

tbsp

Melted Butter

12

drops

Liquid Monkfruit Extract

.5

tsp

Vanilla Extract

1

tbsp

Peanut Powder

.25

tsp

Pumpkin Spice seasoning

.25

tsp

Baking Powder

.25

tsp

Baking Soda

1

pinch

Salt
Buttermilk stand-in
1

tbsp

Heavy Cream

.5

tsp

Vinegar
Instructions
Mix 1 Tablespoon of Heavy Cream and 1/2 Teaspoon of vinegar in a small bowl and set aside to allow thickening.

In the mixing bowl, mix the egg, ricotta cheese, melted butter, liquid monkfruit extract, and vanilla extract until well blended.

Add peanut powder, pumpkin spice seasoning, baking powder, baking soda, and salt, then mix until well blended.

Check that the milk and vinegar mixture does not flow, then scrape it into the mixing bowl and mix well.

Pour batter onto pre-heated, greased waffle iron from back to front, not fully covering the front grid peaks, and cook for 2.5 heat-up cycles. Batter will expand quickly.

Transfer chaffles to a cooling rack and allow to cool before eating.
Nutrition Facts
Old Fashioned Donut Chaffle
Amount per Serving
% Daily Value*
* Percent Daily Values are based on a 2000 calorie diet.