I have been working on creating a good chocolate chaffle recipe for months, never fully satisfied with either the texture or the flavor. While experimenting with thickening agents, I accidentally discovered a certain combination that resulted in a much crispier exterior than I had previously encountered. When used with a chocolate chaffle recipe, the effect was even more significant, and I had finally achieved the "brownie edge" texture.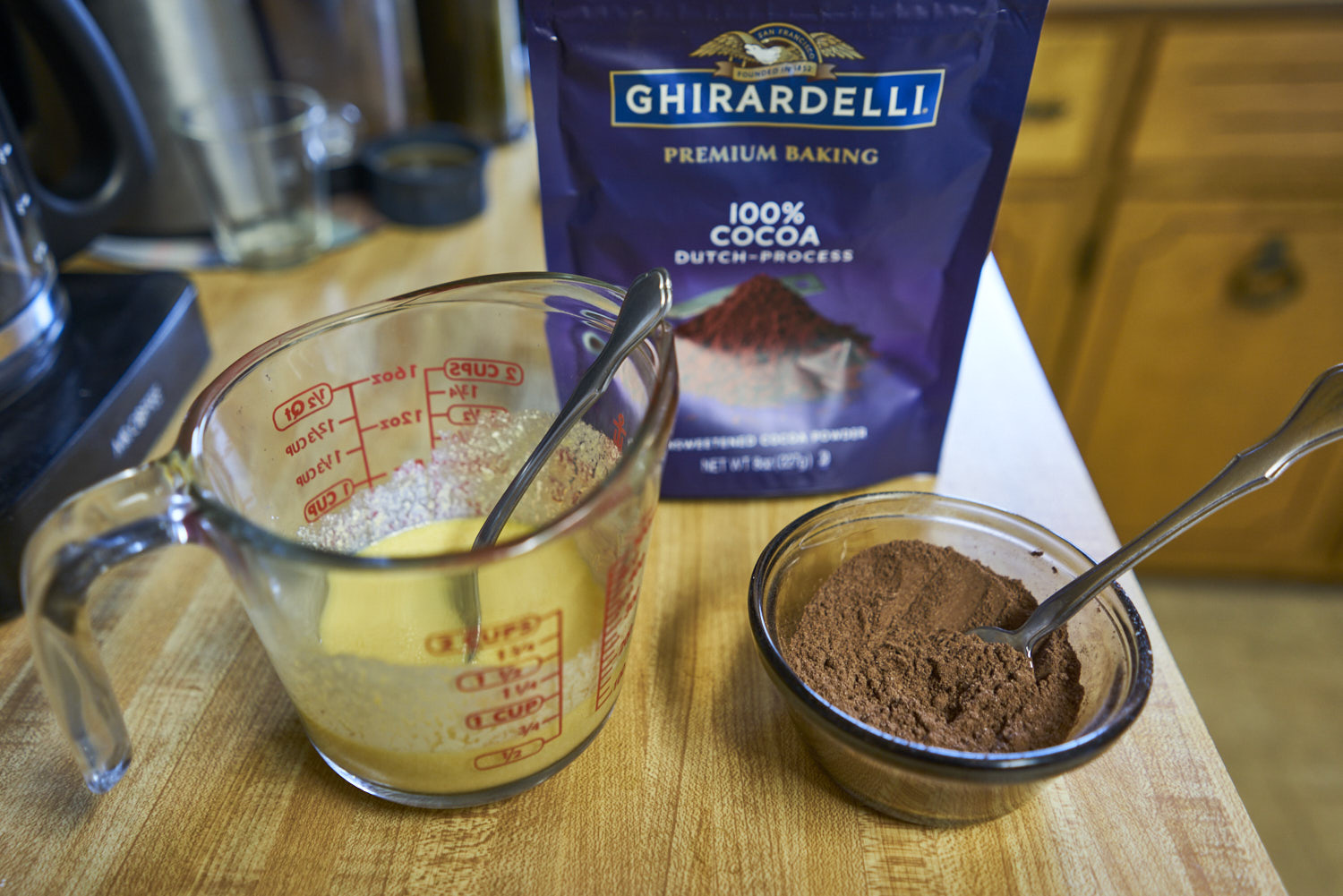 The secret to this recipe is in the dry ingredients: Gelatin, Coconut Flour, and Cocoa Powder. The gelatin and coconut flour create a slightly crispier exterior texture together. The addition of cocoa powder makes that texture even crispier, and almost flaky. Because gelatin has a tendency to clump in liquids, we must mix the dry ingredients together separately, and it's a good idea to sift all of the dry ingredients to minimize potential clumping. In order to keep the interior moist, we use ricotta and oil. We will be using Dutched cocoa, since nearly all brownie mixes use it. Dutched cocoa is powdered cacao that has been treated with an alkaline solution to neutralize the natural acidity. You can use Dutched cocoa entirely, but I like the way raw cocoa shifts the flavor, so I use a mix of 2:1 Dutched to Raw cocoa.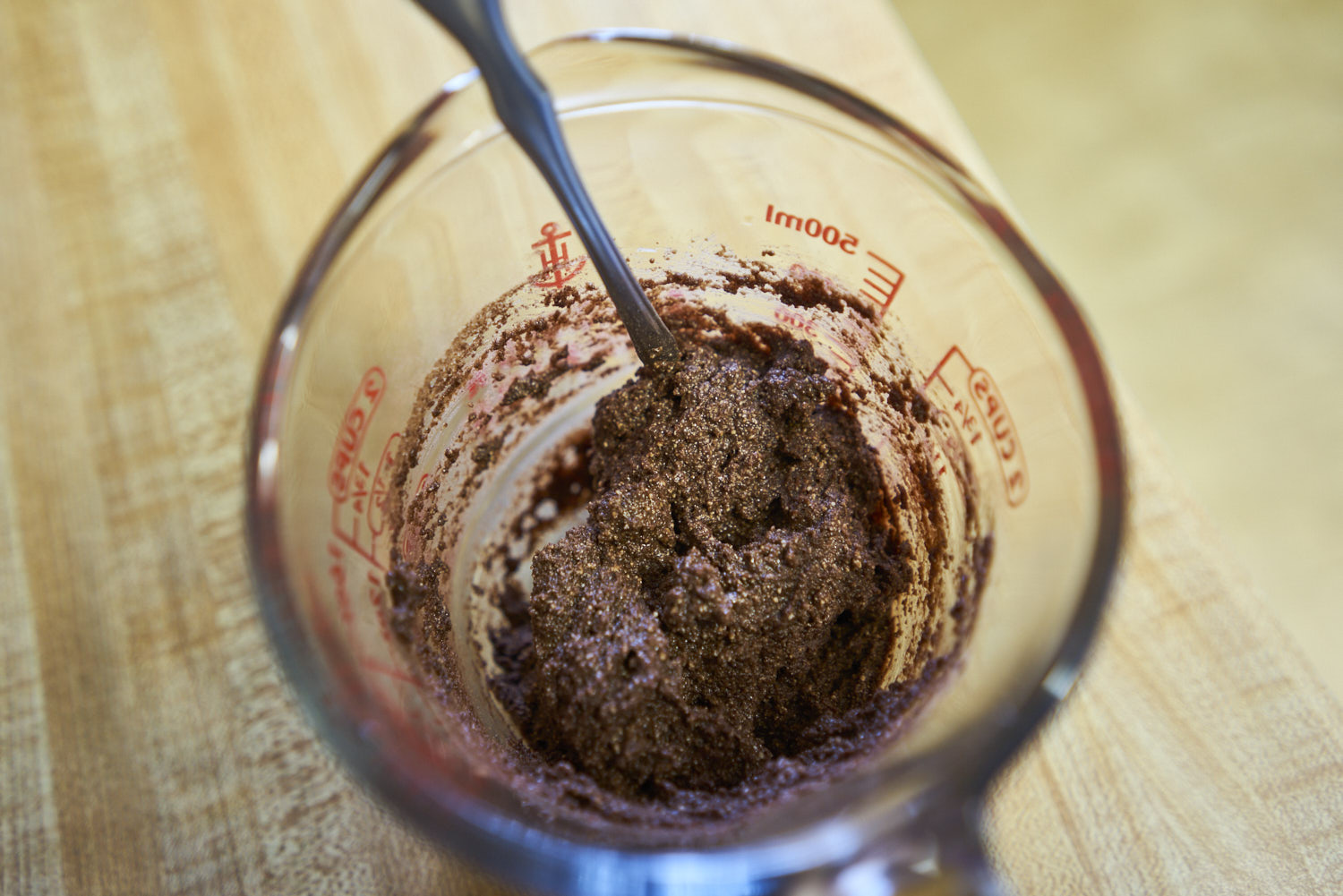 When combining the wet and dry ingredients, you will want to mix very well, and then let it rest for around 5 minutes to allow the coconut flour to suck up some moisture. If you do not want to use coconut flour, you can substitute peanut powder, but this will change the flavor slightly, and result in a much drier brownie. I have not achieved the same results with almond flour (it tastes all right, but the exterior texture is not crispy at all). For regular keto brownie recipes, I prefer to use almond flour over coconut flour, but regular brownies cook much differently than a chaffle, and here the coconut flour is key to the texture. The final batter will be very thick, and will make about 3 chaffles if using a Dash mini.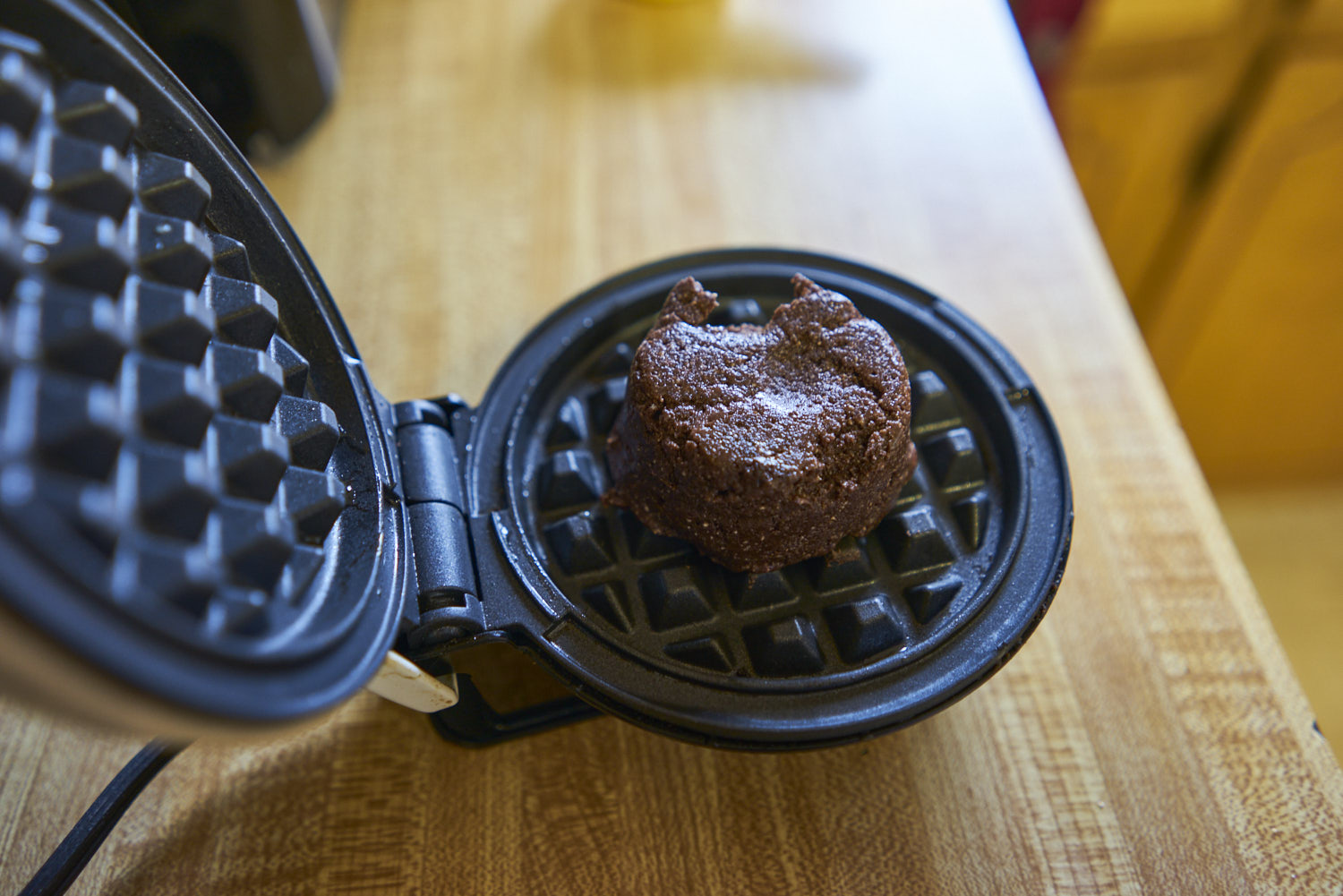 Spoon the batter into a lightly oiled 1/4 cup measuring cup, then transfer it to the greased and heated waffle maker, placing in the center. Gently press the batter down with a spoon, primarily towards the hinge of the maker, as closing the lid will finish the task up front. The batter may stick to the spoon, so carefully work the spoon off of the batter after pressing.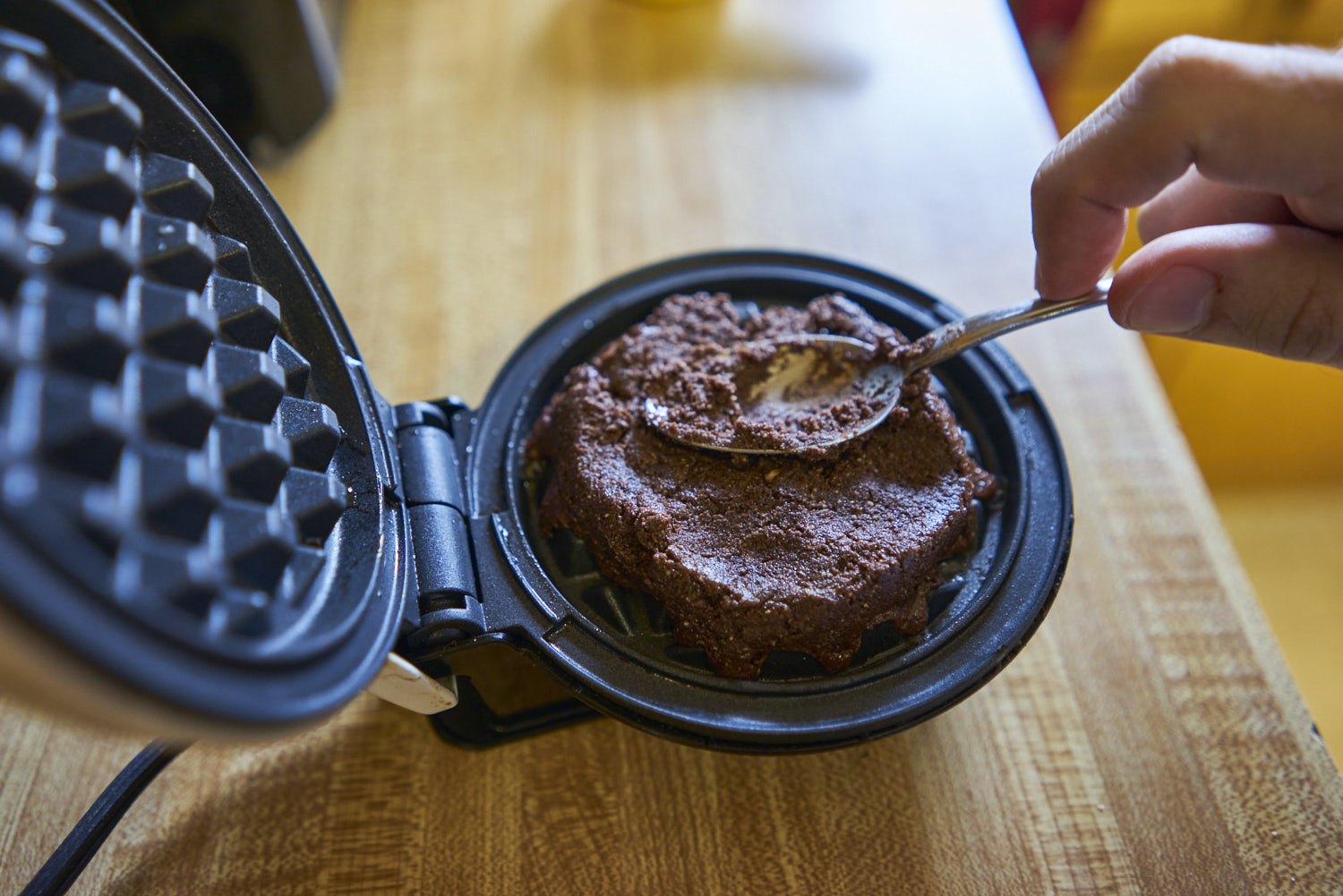 Allow the chaffle to cook for 1 heat-up cycle. I found this to be the optimal cooking time to achieve both a crispy exterior and moist brownie interior. Cooking for 1.5 heat-up cycles will result in a crunchier exterior texture, but drastically dries out the interior compared to just 1 cycle. I did not see any significant benefit to cooking beyond 1.5 cycles.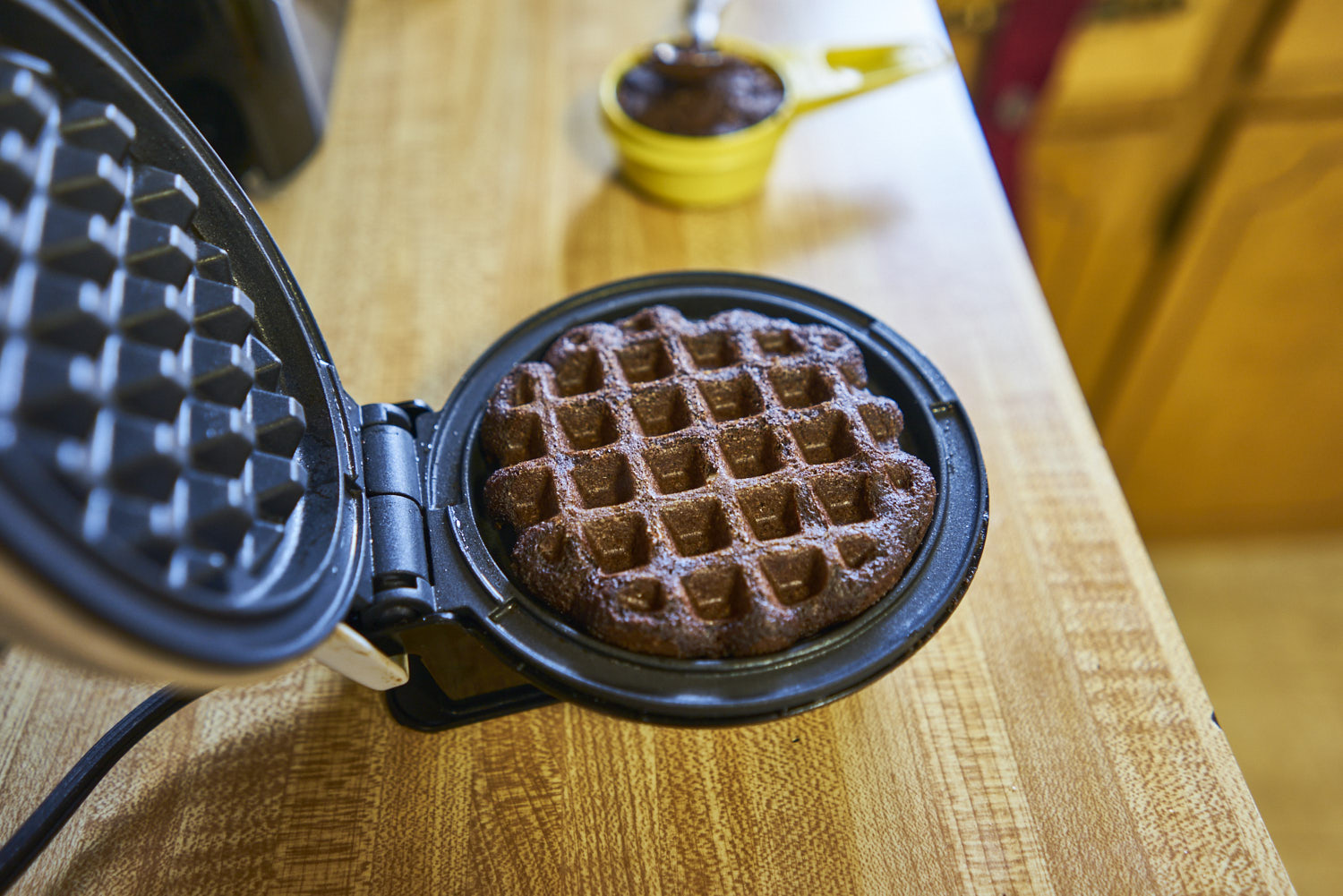 This is by far the best chocolate chaffle recipe I've created so far. It is very much like a brownie, and the total and net carb count is low enough that most people would be fine eating the entire batch in one sitting. Only using 1 tablespoon of coconut flour, this recipe is pretty low FODMAP. Gelatin is also known for aiding in gut health. This recipe is very calorie dense, and can serve as a meal by itself. Replacing the coconut oil with melted butter will reduce the total calorie content by almost 50 kcal. Always be mindful of anything else you are eating along with this recipe, because it's very easy to over-eat these chaffles.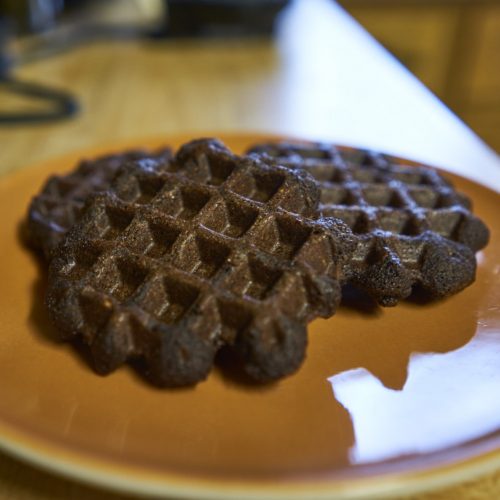 Print Recipe
Keto Brownie Chaffles
Fudgy brownie flavor with an authentic "brownie edge" external texture.
Equipment
Mixing Bowl

Small Bowl

Waffle Maker

1/4 Cup Measuring Cup
Ingredients
1

Egg

1.5

oz

Whole Milk Ricotta

(About 2 tablespoons or 50 grams)

1.5

tbsp

Liquid Coconut Oil

(About 20g. Can substitute melted coconut oil or butter.)

1/4

tsp

Vanilla Extract

14

drops

Liquid Monkfruit Extract

1

tbsp

Coconut Flour

(About 9g. Can substitute for peanut flour, but will make brownies less moist.)

1

tbsp

Gelatin

(About 12g.)

1

tbsp

Dutched Cocoa Powder

(About 8g)

0.5

tbsp

Raw Cocoa Powder

(About 4g. You can use all dutch cocoa, but I like the way this shifts the flavor.)

0.5

tsp

Baking Powder

(2g)

1

pinch

Salt
Instructions
In a mixing bowl, mix the Egg, Ricotta, Oil, Vanilla Extract, and Sweetener.

In a smaller bowl, sift and mix together the Coconut Flour, Gelatin, Cocoa Powders, Baking Powder, and Salt.

Pour mixed dry ingredients into the wet ingredients and stir to combine, then allow to rest while heating up the waffle maker.

Lightly oil a 1/4 cup measuring cup and fill with batter.

Place the measured batter into the middle of the greased, pre-heated waffle maker and lightly press it down with a spoon, focusing towards the hinge of the waffle maker (closing the lid will finish it).

Cook for 1 heat-up cycle for optimal texture and moistness. If you desire a crunchier crust, cook for 1.5 heat-up cycles, but brownies will be less moist.

Transfer to cooling rack.
Nutrition Facts
Keto Brownie Chaffles
Amount per Serving
% Daily Value*
* Percent Daily Values are based on a 2000 calorie diet.