This soft, fluffy chaffle features Italian seasoning, ricotta cheese, and nutritional yeast to achieve a fantastic flavor, great for buns, or melt some cheese and season with garlic to make a quick garlic bread replacement.
Using a single egg and 1.5 oz of ricotta will yield two dash mini sized chaffles. The batter flows well and is very pourable. The key to proper seasoning of a chaffle is to add more seasoning than you think you need. In this case, a single teaspoon looks like enough when you're mixing, but hardly any flavor will come through. 2-3 teaspoons of Italian seasoning will appear to be too much, but will taste just right. Additionally, add 1-2 teaspoons of garlic powder or freshly crushed garlic for even better flavor.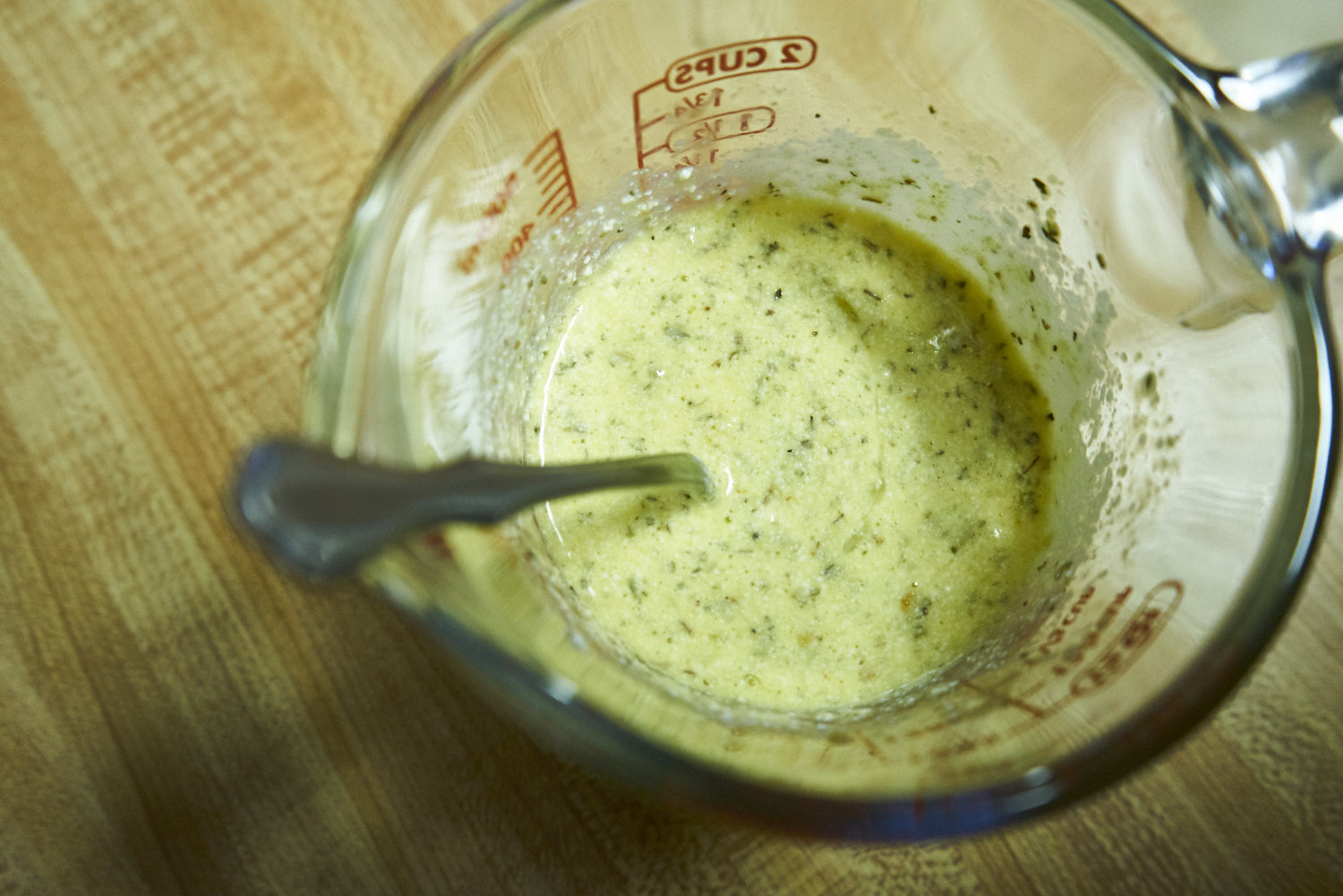 The nutritional yeast not only adds a heaping helping of B vitamins, but imparts a nice cheese flavor into the otherwise mild ricotta based chaffle. The ricotta is key to achieving the soft texture, so to preserve the texture, nutritional yeast is used to impart a cheese-like flavor rather than a sharper cheese like cheddar or parmesan, which will crisp up in the waffle iron.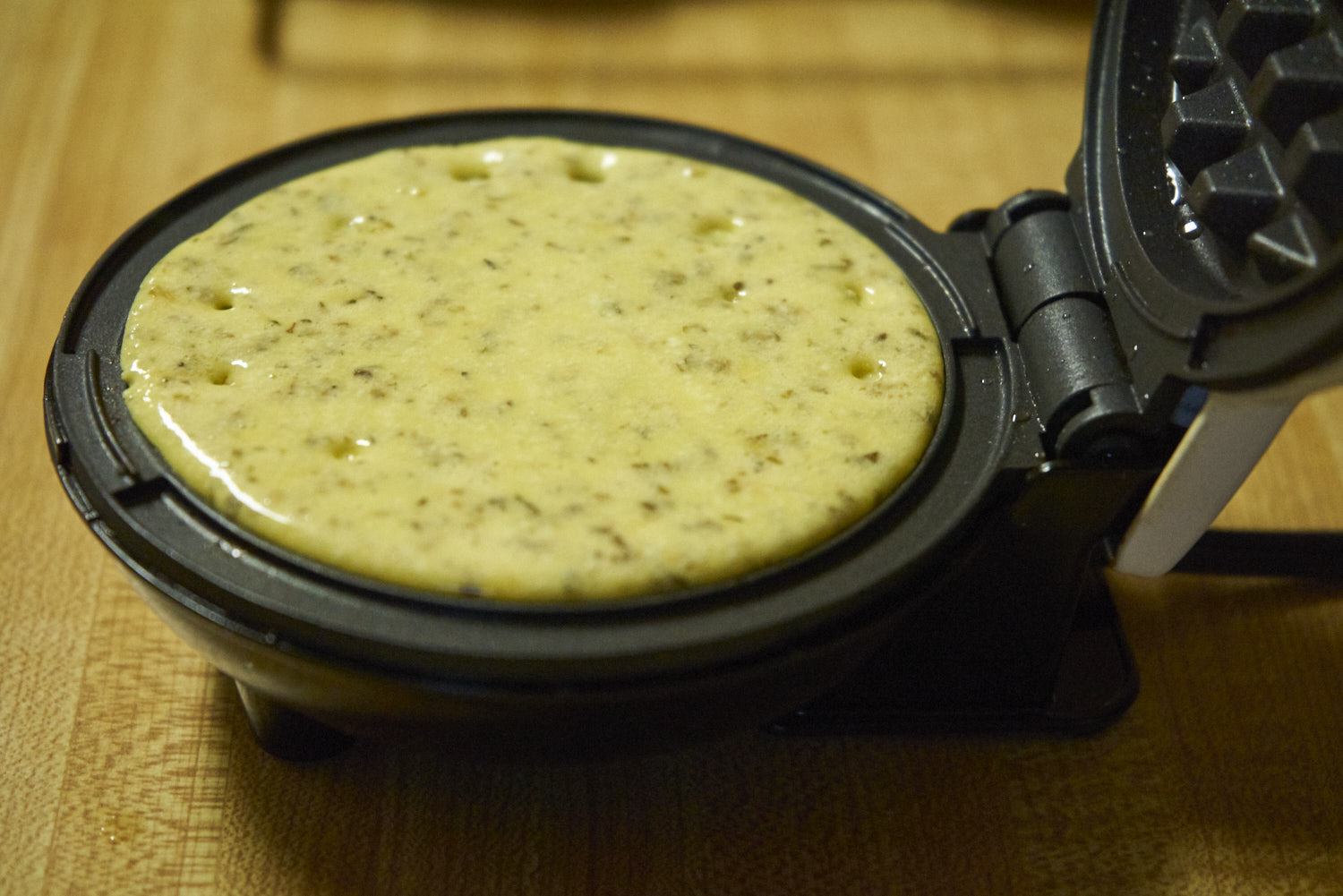 I've found ricotta mixes tend to expand more than other mixes, so when using a dash mini, fill to just below flush with the grid. This mix seems to cook quickly, so usually slight overfilling will not result in a mess, just a fatter chaffle.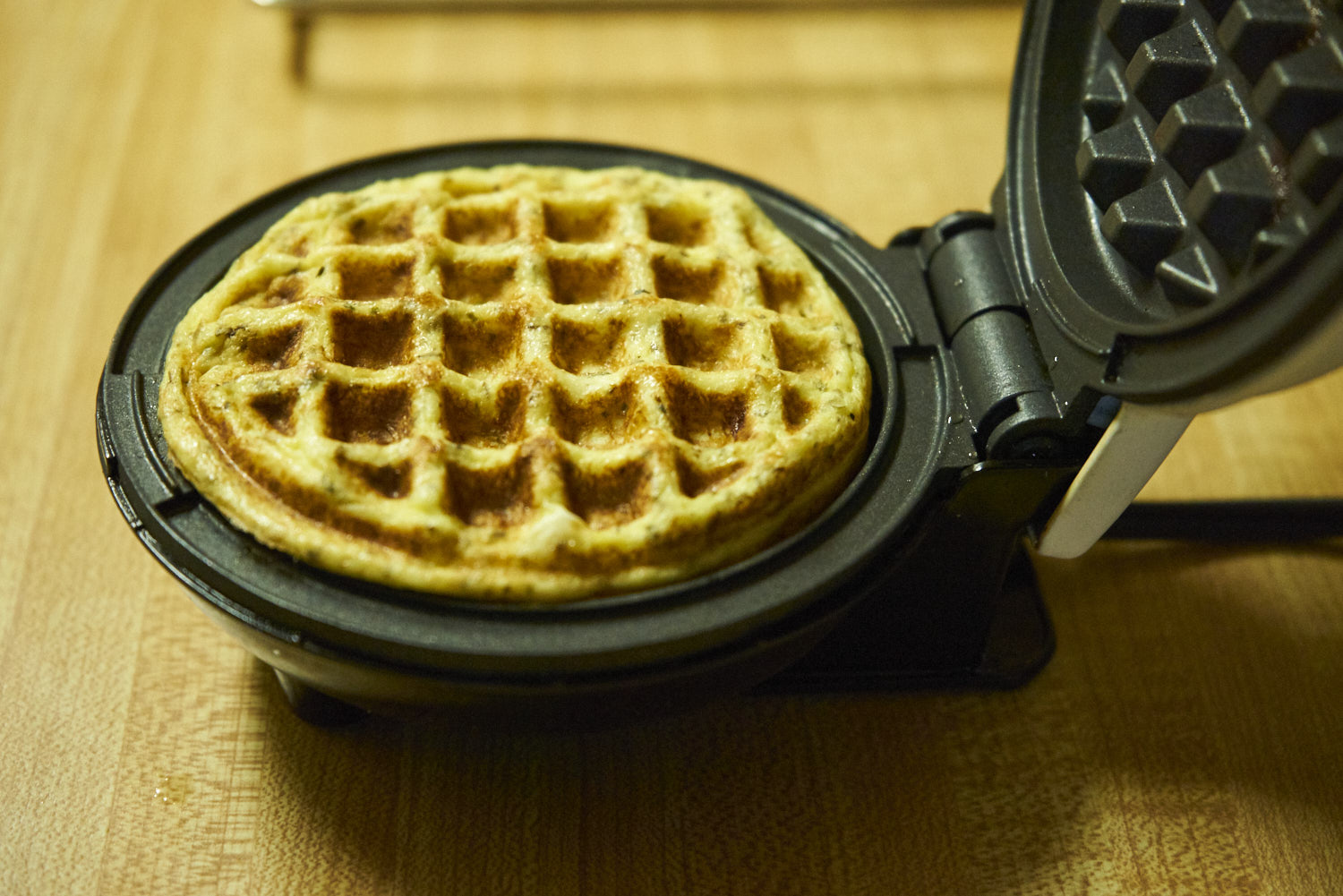 I prefer to use the heat-up cycles of the dash to time these chaffles rather than a fixed amount of time or "when it stops steaming." A heat-up cycle is from when the iron starts heating up (light turns on), to when it reaches temperature (light turns off), to when it starts heating up again. Generally two heat up cycles will result in a good soft all around texture, while adding a third heat-up cycle to the cook time will result in a firmer/crispier texture.
Transfer completed chaffles to a cooling rack to prevent them from getting soggy. They can be enjoyed right away as they are, topped with cheese and thrown into an oven, cooled and used as buns for a sandwich or burger, or stored in the refrigerator or freezer for future use.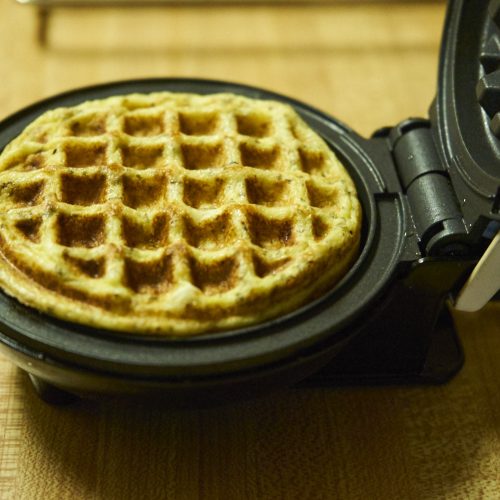 Print Recipe
Italian Herb and Cheese Chaffle
Soft, fluffy chaffle with impactful flavor. Great as a bread replacement.
Equipment
Mixing Bowl

Waffle Iron (Dash Mini)

Cooling Rack
Ingredients
1

Egg

1.5

oz

Ricotta Cheese

((this is about 2 tablespoons))

2-3

tsp

Italian Seasoning

((season to taste))

1-2

tsp

Garlic Powder

((season to taste))

2

cloves

Crushed Garlic

((optional))

1

pinch

Salt

2

tsp

Nutritional Yeast
Instructions
Mix all ingredients in a mixing bowl.

Pour mixture into pre-heated, greased waffle iron. Fill to about flush with the grid. Some grid peaks showing is fine, it will expand.

Cook for 2 full heat-up cycles of the waffle iron (approximately 3 minutes). If a crispier texture is desired, leave for an additional heat-up cycle.

Transfer finished chaffles to cooling rack. If storing for future use, allow to cool fully.
Nutrition Facts
Italian Herb and Cheese Chaffle
Amount per Serving
% Daily Value*
* Percent Daily Values are based on a 2000 calorie diet.